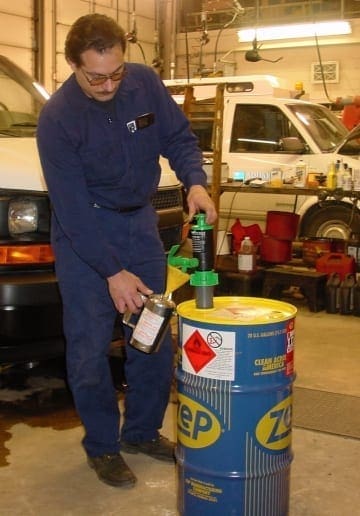 REDUCING VOCs
An important lynchpin to customer service and customer retention is a smooth operating auto fleet service center. Most fleet operations use a broad range of chemicals including degreasers, windshield fluids among others, and they are always searching for the best, most efficient ways to handle them.
Inventory management is a critical component of the manager's day to day operation. Questions that always arise are whether it is better to  purchase smaller, more manageable quantities of the fluid at higher prices which can be poured directly out of a 1 gallon or a 5 gallon container or to purchase larger quantities and then have to deal with transferring the fluids out of the container safely. To top it off, OSHA  and EPA have increased environmental health and safety (EHS) regulations so decision making in this area is critical.
A service manager in Connecticut recently faced this dilemma. To save money for his company, he began purchasing 30 gallon containers of a very evaporative degreaser together with the recommended dispensing pump. However, he found that the recommended pump did not seal off the bung hole and all of the expected saving were evaporating into the air. Further, VOC's such as hexane and methanol in the air are not healthy for workers, so the concern for the health and safety of the  workers became very important. He looked for a pump which would eliminate the evaporation and give him the control in dispensing. Finally he purchased a GoatThroat Pump.
According to the manager, "We don't have problems with evaporation  any more. My workers are no longer exposed to the hexane and methanol in the air. We can pump 1 or 2 strokes with the piston and then the drip proof faucet lets us dispense exactly how much degreasing fluid we need to fill our canisters. This is a great cost saver for my company because the volume buying is working and now we are delivering the fluids safely for the guys in the shop."
Drum Pumps for Safe Chemical Transfer
When you purchase a GoatThroat pump, you can say goodbye to dangerous, messy chemical spills. Say goodbye to wasting valuable liquid product as a result of sloppy, inefficient pouring methods. Industry-trusted GoatThroat Pumps offer the easiest and safest way to transfer and dispense liquids. Our hand pump products and hazardous material pump products can be used for both corrosive and flammable liquids. Our trusted, recognized pump products are ideal for any environment where chemicals and potentially hazardous materials are used like laboratories or manufacturing. GoatThroat Pumps work well because they have a no-nonsense design that makes dispensing liquids from giant containers as easy as turning on a faucet with one touch. We've designed our pumps to handle anything from a two-gallon jug to a 55-gallon drum. We'll even work with you to help select the best of our products to create a solution that works for your specific chemical usage. GoatThroat Pumps work by pressurizing a container to dispense liquids. Our one-touch flow control dispenses liquids at a controlled rate to prevent waste, conserve inventory, and produce precisely measured amounts every time. Flow can be continuous, or adjusted to dispense liquids at rates up to 4.5 gallons per minute depending on viscosity. Here's a look at some of the perks of choosing GoatThroat when looking around for hand pump manufacturers:
The ability to dispense liquids at a controlled rate.
Waste prevention.
Inventory conservation.
Adjustable flow rates of up to 4.5 gallons per minute.
OSHA and EPA compliance.
GoatThroat Pumps deliver the safest, most reliable, and easiest way to transfer liquids between containers with accuracy and precision. Is it time to walk away from the perilous tip-and-pour method that far too many warehouses and laboratory environments are using? Learn more about GoatThroat Pumps today!