CASE STUDY:  Ground Water and Soil Remediation
An Environmental Remediation Company was hired to remove contamination from soil and groundwater at John F. Kennedy Airport  without excavation or continuous equipment on the site. Applying the most advanced technologies and contracting solutions,  they restored contaminated soil and groundwater in the shortest possible time using GoatThroat Pumps.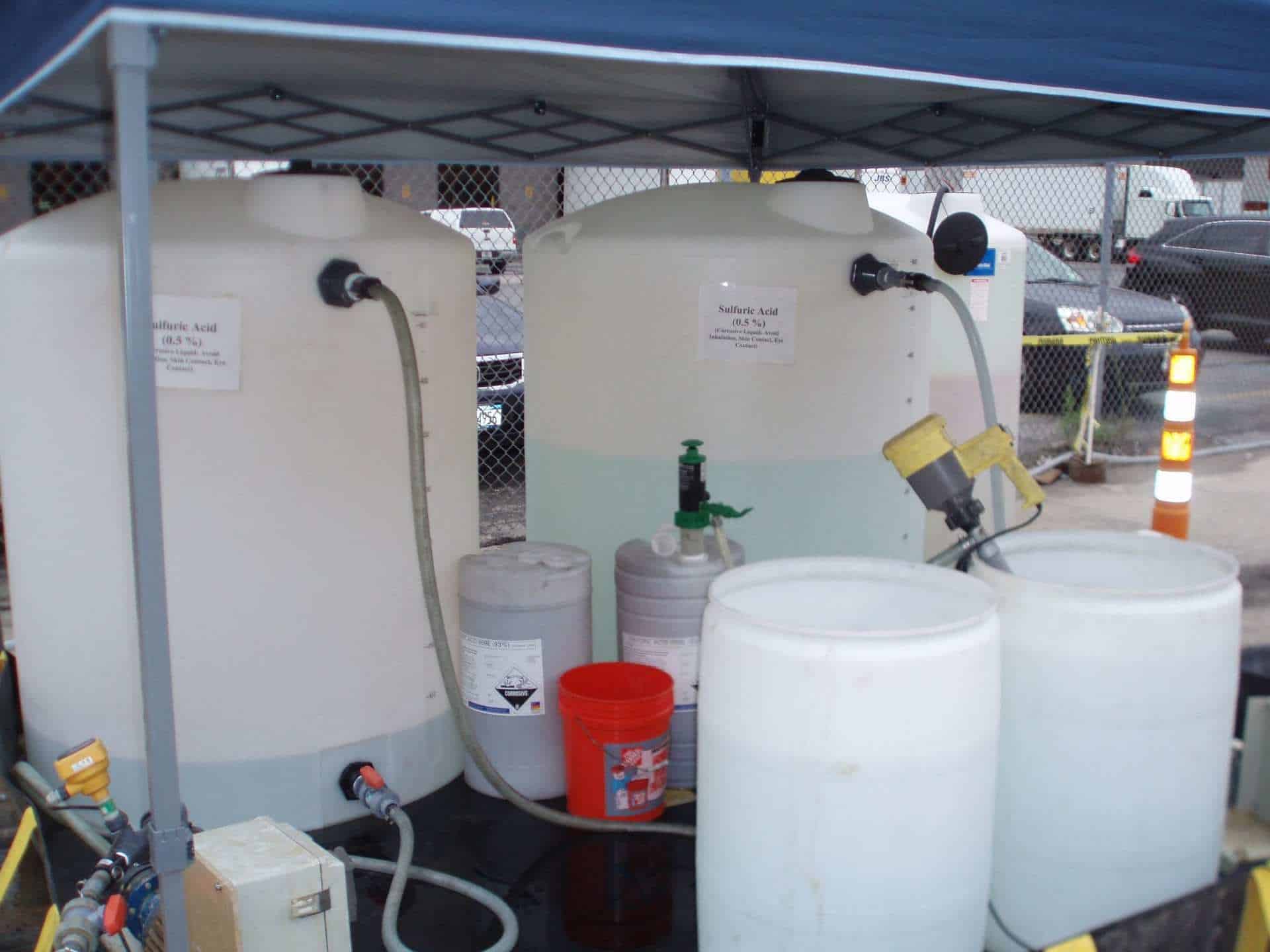 In the customer's own words:
"We are using the pump to dispense 93% sulfuric acid, which then is diluted in 500-gallon tanks to 0.5%. The dilute acid is pumped into the groundwater through injection wells within an area that has been impacted by petroleum compounds from old underground storage tank releases. The acid is used to lower the pH of the groundwater as a conditioning step prior to injection of dilute hydrogen peroxide as an oxidizing step, which breaks down the petroleum compounds. In the photos you can see the GT300 set up on 15-gal carboys of sulfuric. The big 500-gal dilution tanks are in the background. All of the mixing & dilution operations are conducted in Type C PPE and within a secondary containment device. Pumps and reinforced hose are used to distribute the dilute reagents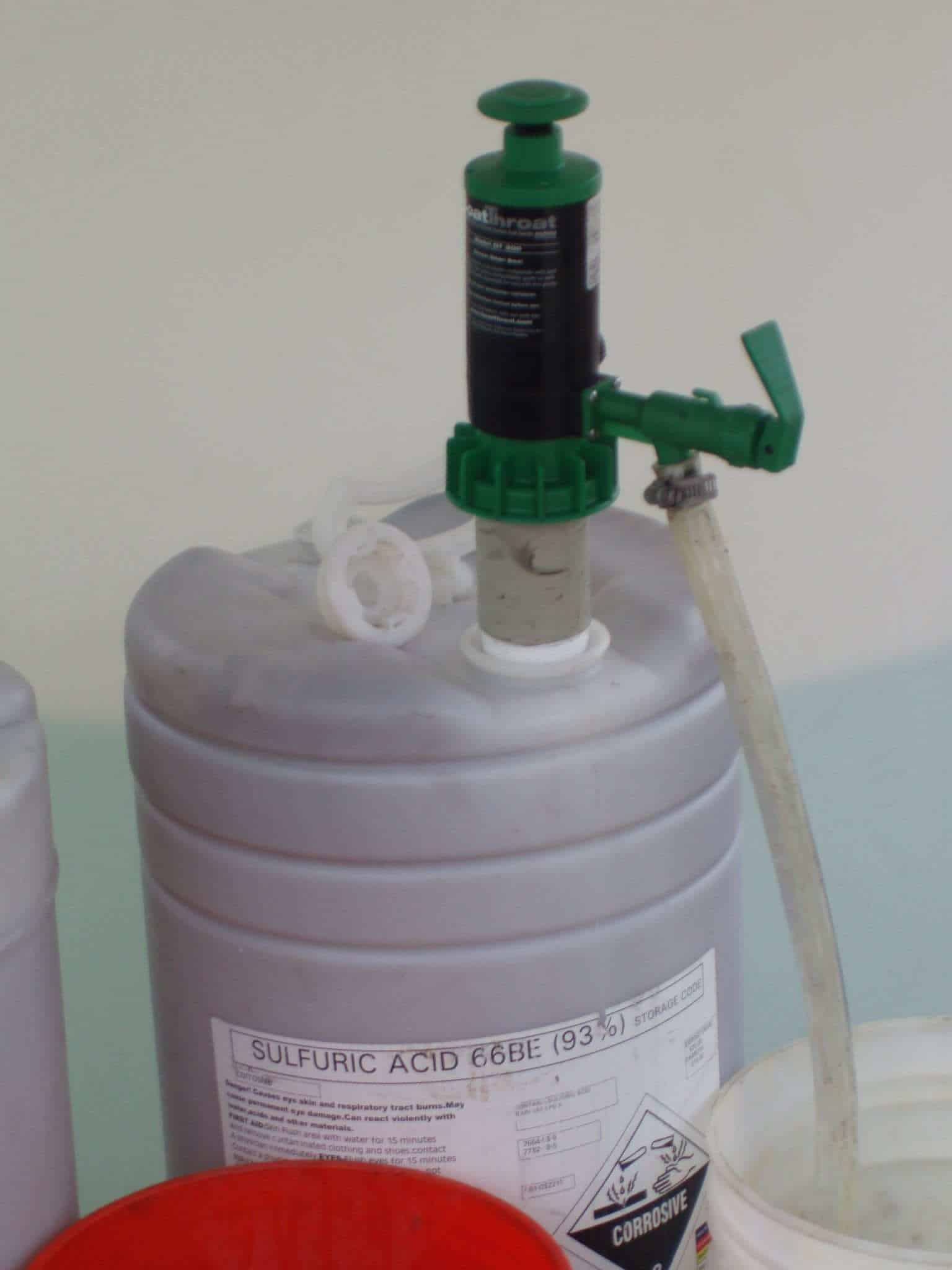 to the injection wells up to 250-feet away. Within the various treatment areas there may be up to 20 or so injection points. The total quantity of reagent (acid + oxidizer) for all areas in this contract is approximately 200,000 gallons. Upon completion we will have used approx. 31 carboys of 93% sulfuric acid – equal to approx 470 gallons – with the GT300. Thanks again for helping us out."
Drum Pumps for Safe Chemical Transfer
When you purchase a GoatThroat pump, you can say goodbye to dangerous, messy chemical spills. Say goodbye to wasting valuable liquid product as a result of sloppy, inefficient pouring methods. Industry-trusted GoatThroat Pumps offer the easiest and safest way to transfer and dispense liquids. Our hand pump products and hazardous material pump products can be used for both corrosive and flammable liquids. Our trusted, recognized pump products are ideal for any environment where chemicals and potentially hazardous materials are used like laboratories or manufacturing. GoatThroat Pumps work well because they have a no-nonsense design that makes dispensing liquids from giant containers as easy as turning on a faucet with one touch. We've designed our pumps to handle anything from a two-gallon jug to a 55-gallon drum. We'll even work with you to help select the best of our products to create a solution that works for your specific chemical usage. GoatThroat Pumps work by pressurizing a container to dispense liquids. Our one-touch flow control dispenses liquids at a controlled rate to prevent waste, conserve inventory, and produce precisely measured amounts every time. Flow can be continuous, or adjusted to dispense liquids at rates up to 4.5 gallons per minute depending on viscosity. Here's a look at some of the perks of choosing GoatThroat when looking around for hand pump manufacturers:
The ability to dispense liquids at a controlled rate.
Waste prevention.
Inventory conservation.
Adjustable flow rates of up to 4.5 gallons per minute.
OSHA and EPA compliance.
GoatThroat Pumps deliver the safest, most reliable, and easiest way to transfer liquids between containers with accuracy and precision. Is it time to walk away from the perilous tip-and-pour method that far too many warehouses and laboratory environments are using? Learn more about GoatThroat Pumps today!