CASE STUDY: Toxic Release Inventory Reporting Made Easy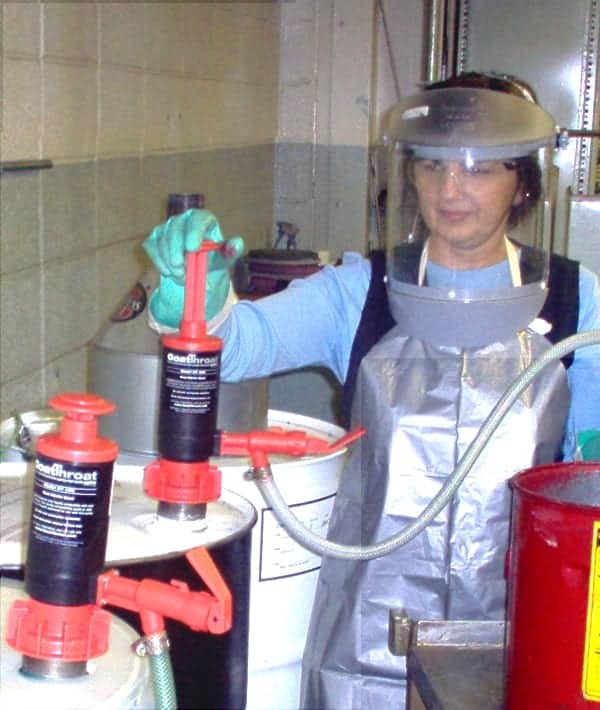 A New England-based aerospace and defense company had been using traditional methods to calculate the information for their TRI (Toxic Release Inventory) and Annual Air Inventory reporting for years. Looking to improve their process, they commissioned GoatThroat pumps to build a system with a meter to improve the accuracy for reporting this information. GoatThroat sealed systems substantially reduce fugitive air emissions prevent chemical spills and mitigate worker exposure to hazardous liquids and emissions. Used for flammable liquids as well as food grade materials, the systems improve efficiency and the bottom line. At GoatThroat Pumps, there is no compromise in terms of performance, safety or sustainability. In the market for over 25 years, our systems are specifically designed with that balance in mind by experts who understand your application. GoatThroat fluid friendly pumps are the safest, most reliable, and easiest way to accurately transfer any liquid. Custom configured pumps, fitting and accessories are fluid specific, meet compatibility requirements, and are designed as complete turnkey solutions to fit your exact transfer application. You don't have to choose between what is important for your business and what is good for your people. See the short video to see how they work. Here, there is no "no" there is only "not yet". Starting with ideas drawn from customer needs, we design and build useful equipment for safe liquid transfer for manufacturing, laboratories, agriculture, food and beverage, the energy sector and more. Our customers are very demanding, and we are grateful Only through their demands and their input can we grow. Deft and thoughtful, the team pares down each new design project to its essence to deliver the right product for the right price. The engineering department at GoatThroat developed two versions of the meter system. One version has the meter at the end of the remote tap. This allows the user to identify exactly how much liquid is being dispensed at any given time. This system also lets the user know when it is time to put a new barrel in place. Several of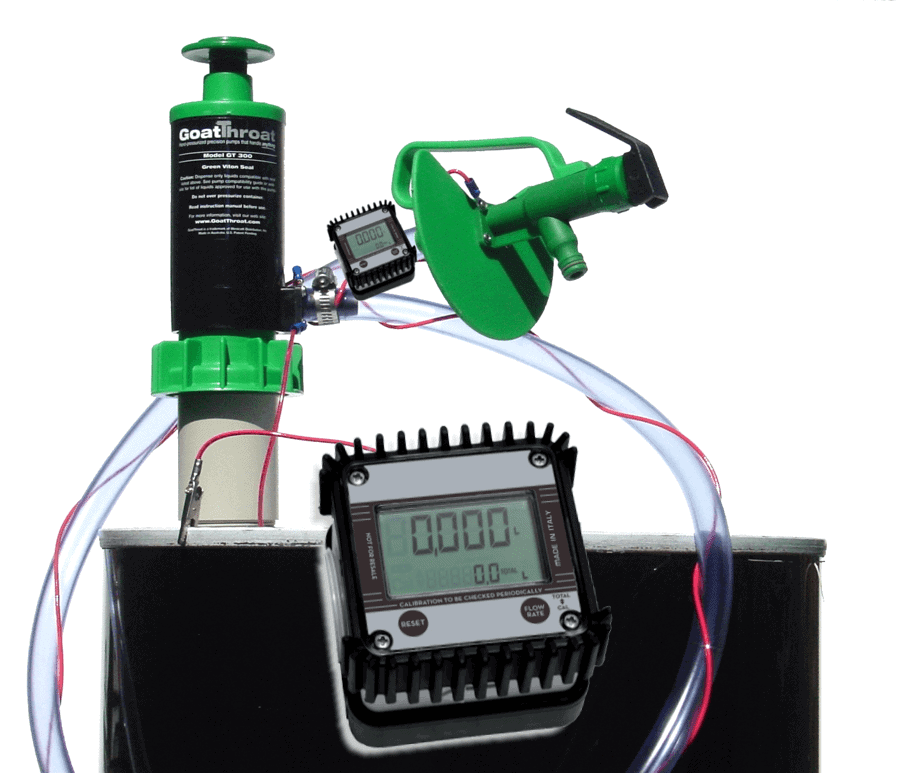 these are being used with highly evaporative liquids such as Novec's HFE series. For the aerospace company GoatThroat created a version with the meter attached to the pump because the only person who needed to read the information was the record keeper for the TRI, P2 (Pollution Prevention) and GHG (Green House Gasses). In his own words, the EHS professional stated : " The gauges are a great tool for data collection in support of TRI reporting. Also very useful for annual Air Inventory Reporting." Please contact us to find out how we can improve your data collection. Info@goatthroat.com or call us at 646.486.3636.
Drum Pumps for Safe Chemical Transfer
When you purchase a GoatThroat pump, you can say goodbye to dangerous, messy chemical spills. Say goodbye to wasting valuable liquid product as a result of sloppy, inefficient pouring methods. Industry-trusted GoatThroat Pumps offer the easiest and safest way to transfer and dispense liquids. Our hand pump products and hazardous material pump products can be used for both corrosive and flammable liquids. Our trusted, recognized pump products are ideal for any environment where chemicals and potentially hazardous materials are used like laboratories or manufacturing. GoatThroat Pumps work well because they have a no-nonsense design that makes dispensing liquids from giant containers as easy as turning on a faucet with one touch. We've designed our pumps to handle anything from a two-gallon jug to a 55-gallon drum. We'll even work with you to help select the best of our products to create a solution that works for your specific chemical usage. GoatThroat Pumps work by pressurizing a container to dispense liquids. Our one-touch flow control dispenses liquids at a controlled rate to prevent waste, conserve inventory, and produce precisely measured amounts every time. Flow can be continuous, or adjusted to dispense liquids at rates up to 4.5 gallons per minute depending on viscosity. Here's a look at some of the perks of choosing GoatThroat when looking around for hand pump manufacturers:
The ability to dispense liquids at a controlled rate.
Waste prevention.
Inventory conservation.
Adjustable flow rates of up to 4.5 gallons per minute.
OSHA and EPA compliance.
GoatThroat Pumps deliver the safest, most reliable, and easiest way to transfer liquids between containers with accuracy and precision. Is it time to walk away from the perilous tip-and-pour method that far too many warehouses and laboratory environments are using? Learn more about GoatThroat Pumps today!