Connecticut Lawn and Tree Care Company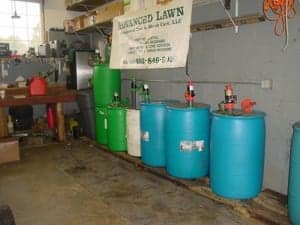 Inventory management of  liquid materials is a critical component of the owner/manager's day to day operation. Questions that always arise are whether it is better to purchase smaller, more manageable quantities of the fluid at higher prices which can be poured directly out of a 1 gallon or a 5 gallon container or to purchase larger  quantities and then have to deal with transferring the fluids out of the container safely. To top it off, OSHA and EPA have increased environmental health and safety (EHS) regulations so decision making in this area is critical.  As we all know, if there is a spill,  depending on the exact material and volume spilled, the paperwork for the reporting to EPA, if required,  is very time consuming, and the cost of lost fluid inventory and clean up time is not an inexpensive proposition either
Michael R. Cyr, owner of Advance Lawn,  Ornamental Tree and Shrub Care LLC.  holds  a Connecticut  state-certified supervisory license which is required by law to own a commercial applicator's business to apply liquid materials in the lawn care business.   His company has been in the lawn and shrub care business for over 20 years. With over 1800 -2000 monthly applications  on residential and business sites in lower Fairfield County, Ct., his crews use a lot of liquid materials.  While growing his business to its current size, Cyr found that he had to make choices about the size container in which to purchase the fluids.  Various trade-offs had to be considered. The 2.5 gallon containers are quite convenient for pouring,  but if purchased all at once, they were hard to store.  In these small quantities, there is a great deal of effort which goes into managing the inventory of small containers to make sure not to  run out.  As a steward of the environment,  Cyr didn't like throwing that much plastic in the landfill.  He also  found that buying twenty-two  2.5 gallon containers of any fluid was nearly 4 to 6 times the cost of a single 55 gallon container of the same fluid.  He began buying the larger 30 and 55 gallon drums.  The methods for transferring the fluids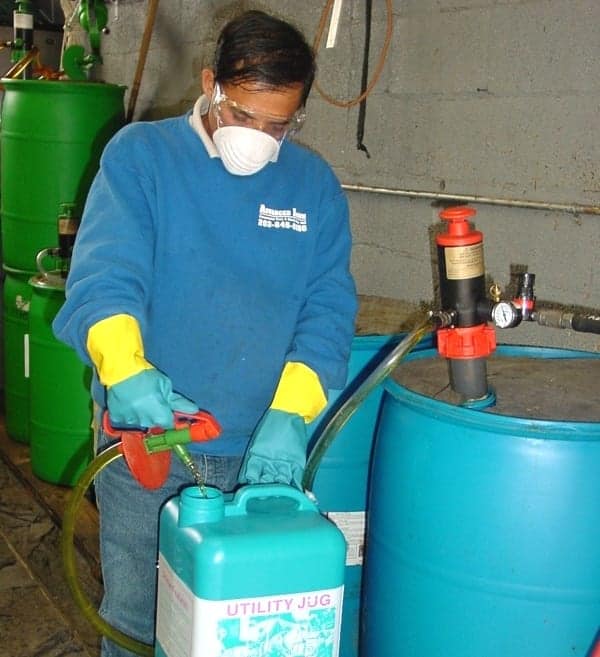 from a 30 or 55 gallon drum  – siphon, rotary pump, pull action pump, lever action pump – were all initially effective,  but over time,  the pumps failed frequently and these failure produced leaks and spills.  Many of these pumps cannot be repaired and must be thrown away into the landfill.  Those that can be repaired are so difficult to repair, that it is frequently easier to just throw them away and buy a new one.  This is not the best way to be a good steward to the environment.
Wanting to improve worker safety, Cyr heard about GoatThroat™  Pumps from his local land care supplier.  He purchased one. Living up to its claim, the pump worked perfectly when inserted atop the upright drum.  In addition to eliminating the leaks and spills,  problem, the pump performed excellently at volumes up to four gallons per minute, with horticultural oils, fertilizers, control products and wetting agents. Because it pressurized the drums, the GoatThroat™ pump made drawing fluid and emptying drums easier than  other pumps he had ever used before. Providing  improved volume control and increased accuracy, the pump eliminated waste and reduced costs.  Purchasing several of the pumps, and a compressor adapter for the pumps over a year ago, Cyr has found no more complaints  from his workers in transferring the liquids needed by his customers.  The pumps, powered either by hand or with a shop-air-compressor adapter, and equipped with a release valve to maintain pressure between 2 and 7 psi were exactly want he was looking for.
"The pumps have turned out to be a safe and smart solution for us", says Cyr. "It works like a beer tap for liquid material," when explaining the spring actuated pump's concept.  "There is no pulsing, and at 4 gallons a minute , this is plenty of volume for our purposes.  Our space restricted fluids room is much cleaner and we are no longer throwing pumps into the landfill."
Drum Pumps for Safe Chemical Transfer
When you purchase a GoatThroat pump, you can say goodbye to dangerous, messy chemical spills. Say goodbye to wasting valuable liquid product as a result of sloppy, inefficient pouring methods. Industry-trusted GoatThroat Pumps offer the easiest and safest way to transfer and dispense liquids. Our hand pump products and hazardous material pump products can be used for both corrosive and flammable liquids. Our trusted, recognized pump products are ideal for any environment where chemicals and potentially hazardous materials are used like laboratories or manufacturing. GoatThroat Pumps work well because they have a no-nonsense design that makes dispensing liquids from giant containers as easy as turning on a faucet with one touch. We've designed our pumps to handle anything from a two-gallon jug to a 55-gallon drum. We'll even work with you to help select the best of our products to create a solution that works for your specific chemical usage. GoatThroat Pumps work by pressurizing a container to dispense liquids. Our one-touch flow control dispenses liquids at a controlled rate to prevent waste, conserve inventory, and produce precisely measured amounts every time. Flow can be continuous, or adjusted to dispense liquids at rates up to 4.5 gallons per minute depending on viscosity. Here's a look at some of the perks of choosing GoatThroat when looking around for hand pump manufacturers:
The ability to dispense liquids at a controlled rate.
Waste prevention.
Inventory conservation.
Adjustable flow rates of up to 4.5 gallons per minute.
OSHA and EPA compliance.
GoatThroat Pumps deliver the safest, most reliable, and easiest way to transfer liquids between containers with accuracy and precision. Is it time to walk away from the perilous tip-and-pour method that far too many warehouses and laboratory environments are using? Learn more about GoatThroat Pumps today!