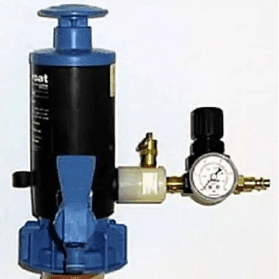 At GoatThroat pumps, we offer alternatives to ineffective, outdated forms of chemical transfer. Our revolutionary hand pumps offer a manual operation experience unlike any other, pouring precisely, sparing bodily wear and tear, and prioritizing workplace safety. But that's not all; GoatThroat makes a wide variety of specialized attachments to fit the individual needs of your company and its functions. Among our most desired attachments is our BillyGoat adapter, giving you a pneumatic pump fluid transfer system to optimize your transfer!
The Masterful Manual
When it comes to hands-on operation, our manual pumps cannot be beat. Our pumps offer a safe solution to back-breaking, spill-seeking tip-and-pour methods that compromise safety and efficiency. With a GoatThroat pump, your container stays in the upright position at all times, saving costly chemicals and protecting employee health. Our one-touch tap system cuts off flow immediately for precision pours and ultimate chemical control.
Vanquish High Volumes The Pneumatic Way!
Speaking of versatility, GoatThroat offers a pump attachment called the BillyGoat adapter, which transforms your pump into a fully-fledged pneumatic powerhouse. Pneumatic pumping mechanisms are perfect for specialized situations like:
Transferring fluids from multiple containers
Delivering fluids to locations from 5′ – 60′ away, with a vertical lift of 6 feet (at 6 PSI)
Emptying a 55 gallon barrel completely
Decanting and applying solvents, acids, cleaners and more
Pumps And Parts That Last!
Even the most safety-conducive and efficient pumps would just be wasted money if they couldn't stand the test of time. Flimsy transfer systems that fail fast make chemical handling a constant chore. But what if we told you that you could sidestep the second-rate and pick up a pump that would last you 10 years or more? GoatThroat pumps are a remedy to the run-of-the-mill, boasting a reinforced polypropylene plastic construction known to last a lifetime. Our accessories and adapters are also made with longevity in mind, featuring solid construction and durable materials.
Go With A Manual Or Pneumatic Pump Today!
Whether you're in need of a manual transfer pump or a pneumatic pump, GoatThroat has you covered. Wave goodbye to the grief of outdated, troublesome transfer systems and say a warm hello to high-tier, performance pumps that will serve you for a lifetime. Contact the pros at GoatThroat for more information or to place the order that will change your chemical transfer tasks forever!