DUNS Number: 021552471
CAGE Code: 3XWR9
SAM Registration: Active
Accept Credit Card: Yes
WOSB Registered: Yes
WBENC Certified: Yes
CORE COMPETENCIES: GoatThroat Pump's unique technology help companies reduce hazmat incidents and save money at their manufacturing facilities by preventing costly chemical spills and the associated cost of reporting and manufacturing downtime.  The systems mitigate worker compensation claims by preventing workers exposure to hazardous chemicals and by eliminating repetitive motion and other injuries.
Prevents costly chemical spills and splashing
Mitigates worker compensation claims
Controlled delivery of chemicals prevents waste and conserves inventory
Helps meet E.H.S. and sustainability requirements
R.C.R.A. empty barrels meet Government regulations
Prevents worker exposure to hazardous chemicals and emissions
Chemicals purchased in bulk (55 g) can save up to $2500 per month
10 year life expectancy saves repeat purchasing of new equipment
Eliminates repetitive motion and other injuries
Provides jobs for Americans with Disabilities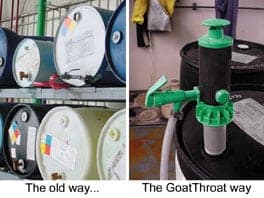 Gravity transfer from drums stored on their sides can cause leaks, spills and lost inventory. Leakproof, spillproof GoatThroat pumps are hand pressurized for quick transfer from vertical drums. Safe, simple and inexpensive, GoatThroat pumps are quickly making management of liquids easier and more efficient. These pumps are engineering controls for fluids which are designed to minimize the hazards associated when transferring liquids.
Download Library.
Click on a title to download.
Ratings & Reviews.

Business Type: Government - Higher EducationJul 27, 2018. This pump is durable and safe. We are able to dispense the hazardous materials we use in a controlled manner. No spills. No overflowing containers. And customer service is excellent. —Dee Kellerhals, Large River EcologistChemical: FormaldehydePump: Gt300 With Viton Seals

Business Type: Government - Higher EducationSep 11, 2017. The goat throat pump that we purchased at the college to use with larger drums of organic solvents (dcm or hexanes) works as advertised. —Lynn Stevens, Ms.Chemical: Dichloromethane And HexanesPump: Gt300 With Viton Seals

Business Type: Government - MilitaryJul 05, 2017. We use goatthroat gt-200 hand pumps in a few of our barrels in the shop and we could not be happier with their reliability or usability. —Tristan Volpi, Goatthroat Gets It DoneChemical: OxytechPump: Gt200 With Epdm Seals
Find the Right Pump.
Rather talk to a person? Email us or call (866) 639-4628.
Recommended.
Some of our products that people in the Government Industry use.