Recommended by several chemical companies, there is no doubt that GoatThroat® Pumps improve reliability and safety in pharmaceutical and medical manufacturing environments. Users all agree that spill prevention beats clean up with solvents, acids, and other corrosives. With the cost of chemicals, many facilities use GT Pumps because they are safe for contact with over 1,700 chemicals and meet exacting requirements. The sealed system is essential in such environments because it reduces vapors and emissions and allows for complete control over the volume of liquids dispensed. The SCP Line of Pumps which are made of static conductive plastic allows these pumps to be used with flammable liquids meeting both NFPA 77 and NFPA 30 requirements. All non-SCP pumps are made from Food Grade materials making them safe for food contact.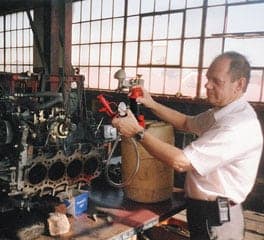 Transfer Flammable Chemicals Safely
GoatThroat pumps are trusted in pharmaceutical and medical lab environments around the world because of their durability and dependability. Our chemical transfer pumps help cut down on spills of expensive or potentially dangerous liquid substances in your facility. This level of safe and precise chemical transfer is mandatory for transferring flammable chemicals safely.
Many pharmaceutical companies rely on GoatThroat to safely transfer a wide variety of highly regulated liquid materials from large containers. In the pharmaceutical processing setting, many chemicals being used are flammable, so there can be no margin of error. Our products allow medical and pharmaceutical makers create a safer environment that comply with EPA and OSHA regulations.
Download Library.
Click on a title to download.
Rather talk to a person? Email us or call (866) 639-4628.
Recommended.
Some of our products that people in the Pharmaceutical & Medical Industry use.
Ratings & Reviews.

Business Type: OtherAug 12, 2020. These pumps are great, but they do leak a bit after dispensing.—Terren Chang, Automation SpecialistChemical: Smokez-h-10Pump: Gt100 With Nitrile Seals
Case Studies.