Air Operated Pneumatic Line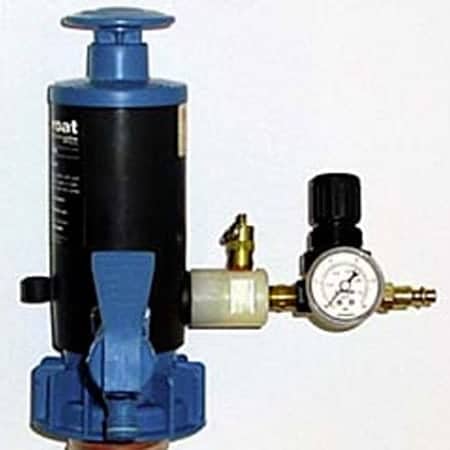 These small, versatile pumps can now safely be used with shop air, air compressors or bottled compressed air in the shop, in the field — anywhere, any time.
The BillyGoat adapter features an external pressure safety valves at 4.5 psig. The new compressor setup delivers fluids at up to 4.5 gallons per minute with a working pressure of just 2PSI.
This revolutionary development will make it even easier to:
Transfer fluids from several containers
Deliver fluids to locations from 5′ – 60′ away, with a vertical lift of 6 to 8 feet (at 6 PSI)
Empty a 55 gallon barrel completely
Decant and apply cleaners and degreasing agents
Includes:
Air Regulator with quick connect fitting
1-15 psig meter
Automatic external pressure relief at 4psig
Adapter to GoatThroat Pump
Made in the USA.
Product Categories