Gold Winner – Product of the Year in Fluid Handling
April 2017.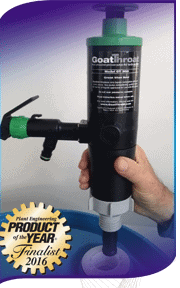 Need to find a pump to work with your DrumQuik® applications or are you looking for a threaded fitting between the pump and the drum? Check out the DQGT – compatible with DrumQuik– co-developed with CPC – Colder Products Inc. Designed as an engineering control to improve worker safety, sustainability and environmental compliance for point-of-use liquid transfer, the GoatThroat DQGT Pump System works with all DrumQuik inserts. Pumps from GoatThroat prevent the hazards usually associated with transferring liquids such as unwanted vapors, leaks and spills.
The DrumQuik for GoatThroat (DQGT) sealed chemical dispense/pumping system is designed to minimize/eliminate corrosive chemical exposure to technicians, prevent hazardous spills into the environment, minimize inventory loss due to evaporation, and protect the purity of the chemical while dispensing liquids at point of use and when transferring the system from barrel to barrel. With a DrumQuik dip-tube closure installed in the container, only the 2-lb DQGT pump head is moved to the next barrel. Featuring secure, threaded closure options for most common plastic and metals drums, the DQGT installs easily on barrels providing a sealed system that maintains liquid purity and prevents noxious vapors from escaping into the environment.
See how it assembles with a GoatThroat Pump
See a video showing how easy it is to use.
The DQGT Pump System is available as standard in either Viton® or EPDM or with an FEP upgrade to match the chemical resistance required for use with over 1,400 commonly used liquids and chemicals. To find out more, call GoatThroat toll free +1 866-639-4628 or +1 646-486-3636.
Click an image below to enlarge it.
Drum Pumps for Safe Chemical Transfer
When you purchase a GoatThroat pump, you can say goodbye to dangerous, messy chemical spills. Say goodbye to wasting valuable liquid product as a result of sloppy, inefficient pouring methods. Industry-trusted GoatThroat Pumps offer the easiest and safest way to transfer and dispense liquids. Our hand pump products and hazardous material pump products can be used for both corrosive and flammable liquids. Our trusted, recognized pump products are ideal for any environment where chemicals and potentially hazardous materials are used like laboratories or manufacturing. GoatThroat Pumps work well because they have a no-nonsense design that makes dispensing liquids from giant containers as easy as turning on a faucet with one touch. We've designed our pumps to handle anything from a two-gallon jug to a 55-gallon drum. We'll even work with you to help select the best of our products to create a solution that works for your specific chemical usage. GoatThroat Pumps work by pressurizing a container to dispense liquids. Our one-touch flow control dispenses liquids at a controlled rate to prevent waste, conserve inventory, and produce precisely measured amounts every time. Flow can be continuous, or adjusted to dispense liquids at rates up to 4.5 gallons per minute depending on viscosity. Here's a look at some of the perks of choosing GoatThroat when looking around for hand pump manufacturers:
The ability to dispense liquids at a controlled rate.
Waste prevention.
Inventory conservation.
Adjustable flow rates of up to 4.5 gallons per minute.
OSHA and EPA compliance.
GoatThroat Pumps deliver the safest, most reliable, and easiest way to transfer liquids between containers with accuracy and precision. Is it time to walk away from the perilous tip-and-pour method that far too many warehouses and laboratory environments are using? Learn more about GoatThroat Pumps today!