A  BUSINESS CASE FOR SUSTAINABLITY:  HOW GOING GREEN IMPROVES THE BOTTOM LINE AT ADTECH CERAMICS
As the realities of resource depletion and global environmental degradation become more evident, we can see a maturing and strengthening of the public's concern for and knowledge of the broad goals of environmental issues.  Businesses will be increasingly scrutinized by both the public and regulatory agencies and will be required to develop approaches and practices which address immediate environmental concerns and adhere to the emerging principals and dictates of sustainability.
The business case for sustainability has been made by many, but it bears repeating here.  According to Katrina Funk of Cap Gemini Ernst & Young,  "…The word 'sustainability remains ambiguous and politically charged, particularly within the lexicon of business.  When as is commonly the case, the term is limited to encompass environmental management of social equity, sustainability is often perceived to be at odds with fiduciary responsibility and unlinked to business strategy. …   A sustainable organization is one whose characteristics and actions are designed to lead to a 'desirable future state" for all stakeholders.  For investors, a desirable future state would surely include sustained revenue growth over the long term.  For the talent market, it would include workforce diversity.  Regulators and the community at large value environmental stewardship and social responsibility.  Consumers seek useful, reliable, price efficient products and services.  Form the view of employees of the company itself, a desirable future state includes maintaining viability and profitability as well as managing risk while promoting innovation.  Companies that actively manage responses to a wide range of sustainability indicators are better able to create value for all of these stakeholders over the long term."
Managers are discovering that the intangible  indicators that gauge sustainability can also be indicators of efficacy … that is how well a company is run.  A sustainable business strategy in manufacturing  facilities can improve all aspects of the corporate manufacturing  activity.  Environmental management is  a good proxy for gauging overall management capabilities at both the strategic and operational levels.  Cost advantages can result from adopting best practices that focus on  companies' production processes.
Process-focussed, best practices can be seen as the basic precondition for implementation of all best practices at the environmental level and the most basic building block of a responsible environmental strategy.  The competitive result of environmental strategies that companies consider are  short term cost savings.  In other words, process-focused best practices can create cost savings faster than other practices.  Firms can choose from a variety of technologies to reduce negative effects of their activities  on the natural environment as well as the business environment.  Improved pollution prevention, attention to  worker safety, reduction of  VOCs  and safe chemical handling, using product which have no built in obsolescence,  are some key components which demonstrate  a firm's commitment to its environmental responsibility and can actually  improve their financial status.  In other words, going green improves the bottom line.
Some firms choose to meet or beat compliance targets as a way to demonstrate their commitment to sustainability.   Proactive investing in environmental measures beyond those required by law can be good for the bottom line if for no other reason  than to limit the downside risks of damages, hefty fines and litigation fees and public relations disasters.
CHEMICAL HANDLING AND WORKER SAFETY
 Advanced Technical Ceramics Company  in Chattanooga, Tennessee is a nationally recognized designer and manufacturer of microcircuit packaging for telecommunications, military, aerospace, satellite communications, and other high tech applications. In continuous operation for over 100 years, the company manufactures precision-engineered technical ceramics and metals in two buildings totaling over 100,000 square feet.  Ceramic m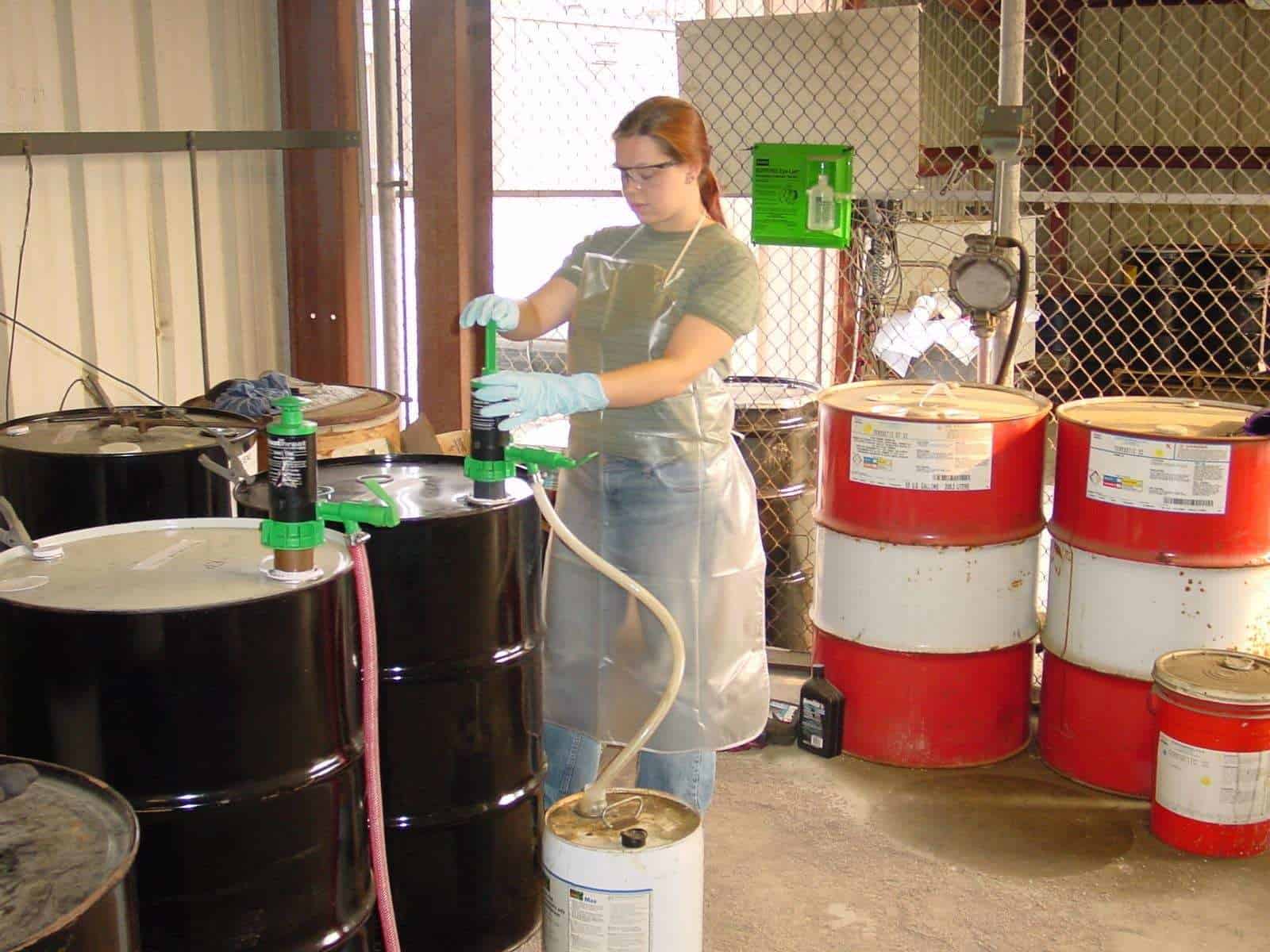 aterials are prepared as "tape" or "pastes", while metals are prepared solely as "pastes". The process of making ceramic tape begins by milling precise amounts of raw materials into homogeneous slurry – a mixture that is principally ceramic powder of controlled particle sizes combined with organic binders and solvents. The slurry is then poured onto a carrier and passed under a blade to produce a uniform coating. Once dried, this material becomes a ceramic-loaded "tape" which is easily handled in rolls or sheets for unfired processing. Metal pastes, prepared the same way, are subsequently used for screen-printing on green ceramic tape to form electronic circuits, while the ceramic paste is used as screen-printed dielectric layers. These electronic circuits can then be layered on each other to form 3-dimensional ceramic packages, which are then fired and plated – thus producing the final part. Ixion's customers then populate these ceramic packages with electronic components to be used in their final applications.
Observing industry-standard facilities and safety considerations are a key component of AdTech Ceramics' fluid management program. The process chemicals are housed in a substantial, environmental containment facility which will hold upwards of 6000 gallons  of fluids in the event of a spill or a flood.
With safety in mind and because of the flammable nature of the organic process solvents including toluene and alcohols, AdTech Ceramics  has made it a policy that neither electric motors nor pumps can be used with or near these fluids. Most of the process chemicals and fluids arrive at the plant in 55 gallon containers. Until recently, many of these fluids were dispensed using a gravity fed system.
The alcohols are used in the production of the liquid ceramic "slip" used to manufacture the ceramic tape.  The cleaning solvents are used for various clean-up procedures in the tape casting and screen-printing departments.  When handling the fluids and drums, the workers are protected from splashing by aprons, gloves and safety goggles, and safety environmental spill containment pallets are in place in the event that any local containment of spills is required.
David Kuster, the EHS coordinator at AdTech, wanted to improve the fluid transfer processes to make it safer for workers, more cost effective for the bottom line and more environmentally compliant.
Recently,  new style hand  pumps have replaced several gravity-fed brass fixtures in AdTech Ceramics' operation.  The gravity fed process involved threading the brass fixture into the small bung in the top of the drum, threading a vent into the large bung, placing the drum on a roll down drum fixture and tipping the drum into the horizontal position for dispensing.
There are many inherent difficulties with the gravity-fed spigot system.  First, the spigots can clog up easily and can be difficult to remove.  It can be very labor intensive and awkward to remove the fluid from the drum. Secondly, it is difficult to control the flow rate from the drum.  Further, leaks are common with the spigot system, which contributes to fugitive inventory loss.  Finally, this system does not allow for complete removal of all fluid from the drum, so additional labor and handling is required to make the drum R.C.R.A. ready (Resource Conservation and Recovery Act). With this system, AdTech Ceramics is able to make all of its containers  R.C.R.A. ready, which means that the drums have no more than two inches of product left in the drum after dispensing operations are completed.  According to David Kuster, "These pumps will literally leave a few ounces of fluid in the bottom of the drum and that is a very good thing when you are paying for chemicals by the pound and or gallon.  Our company was leaving approximately 5 to 8 gallons in the drums when we were utilizing the brass (horizontal drum caddy) set up and that was returned to the company that we bought it from.  Then we had to pay for that much product again.  What a great cost saver to be able to use that extra product thanks to the features of this new pump style ."
The employees appreciate how much easier fluid handling is with this new pump.   Several people have commented that dispensing their own chemicals no longer daunts them.  According to David Kuster, "Now the drums can stay in the upright position. This greatly reduces the handling of the drums, injuries to our workers and, guess what?  No more leaking drum fittings.  These pumps are a definite improvement for my Safety Program.  These pumps nearly drain a drum dry.  This helps on the disposal end when every drum is already RCRA empty and ready to be disposed of. Our workers are safer and we are meeting the environmental goals of our company."  Besides being a safer alternative to the gravity-fed system, these pumps are "a real cost-saver." says Kuster.  All of these making it AdTech Ceramics' preferred pump for its process chemicals.
Drum Pumps for Safe Chemical Transfer
When you purchase a GoatThroat pump, you can say goodbye to dangerous, messy chemical spills. Say goodbye to wasting valuable liquid product as a result of sloppy, inefficient pouring methods. Industry-trusted GoatThroat Pumps offer the easiest and safest way to transfer and dispense liquids. Our hand pump products and hazardous material pump products can be used for both corrosive and flammable liquids. Our trusted, recognized pump products are ideal for any environment where chemicals and potentially hazardous materials are used like laboratories or manufacturing. GoatThroat Pumps work well because they have a no-nonsense design that makes dispensing liquids from giant containers as easy as turning on a faucet with one touch. We've designed our pumps to handle anything from a two-gallon jug to a 55-gallon drum. We'll even work with you to help select the best of our products to create a solution that works for your specific chemical usage. GoatThroat Pumps work by pressurizing a container to dispense liquids. Our one-touch flow control dispenses liquids at a controlled rate to prevent waste, conserve inventory, and produce precisely measured amounts every time. Flow can be continuous, or adjusted to dispense liquids at rates up to 4.5 gallons per minute depending on viscosity. Here's a look at some of the perks of choosing GoatThroat when looking around for hand pump manufacturers:
The ability to dispense liquids at a controlled rate.
Waste prevention.
Inventory conservation.
Adjustable flow rates of up to 4.5 gallons per minute.
OSHA and EPA compliance.
GoatThroat Pumps deliver the safest, most reliable, and easiest way to transfer liquids between containers with accuracy and precision. Is it time to walk away from the perilous tip-and-pour method that far too many warehouses and laboratory environments are using? Learn more about GoatThroat Pumps today!