Liquid Management The Easy Way!
GoatThroat® Pumps work by pressurizing a container to dispense liquids with one touch, as easily as using a faucet. A few strokes of the piston can pressurize any container from 2-gallon jugs to 55-gallon drums.
One-touch flow control dispenses liquids at a controlled rate to prevent waste, conserve inventory, and produce precisely measured amounts every time. Flow can be continuous, or adjusted to dispense liquids at rates up to 4.5 gallons per minute depending on viscosity.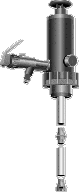 In standard kits, one drum seal are provided with each pump, to fit and pressurize any common container size from 2-gallon jugs to 55-gallon drums. Other sizes are available.
Four siphon tubes can be used singly or in combination. Siphon tubes are sized to fit common containers. Additional tubes can be ordered, and tubes can easily be cut to length for use with custom container sizes.
Made in the USA, GoatThroat® Pumps are available in four models, to handle nearly any liquid or chemical. See our Compatibility Guide to select a pump for your application.