Santoprene Pump & Tap Line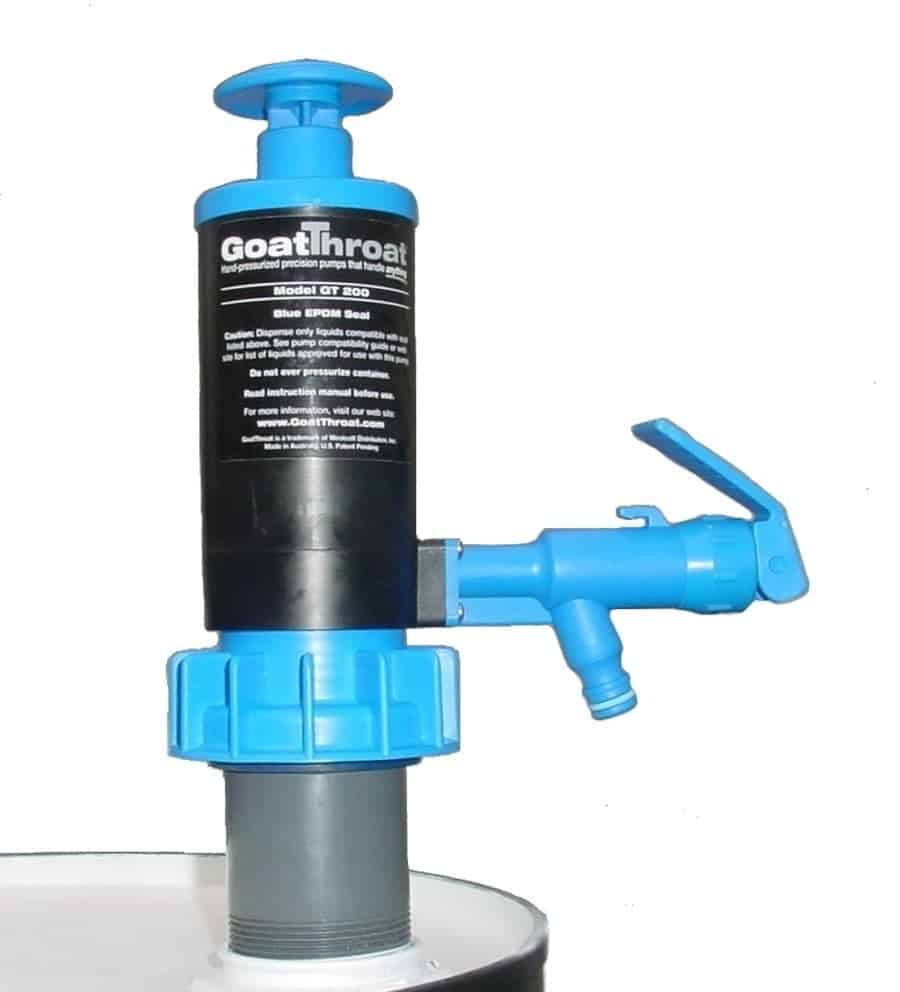 GT/SCP200S Pumps have food grade Santoprene, EPDM and PTFE elastomeric gaskets throughout the fluid path and other internal parts.  Please check the chemical compatibility chart to determine if these pumps are suitable for your liquid. Systems are offered for both food grade applications and flammable liquid applications.
5 STAR  Business Type: Chemical Manufacturing Sep 29, 2020. Awesome pump. Huge upgrade from our previous set up which resulted in acetone all over our hands. This is easy, clean, and most of all safe.—Paige Curson, Materials Chemist  Chemical: Acetone Pump: Gt200s With Santoprene Seals  See more reviews:  
We are passionate about your safety when loading and mixing chemicals. We have been in the business of safe chemical handling and proudly manufacturing right here in the USA since 2000.
ABOUT THIS PRODUCT LINE.  See all products below.
DURABLE: Made of reinforced polypropylene plastic (bowling ball plastic), which lasts a lifetime, and EPDM, Teflon and Santoprene elastomers for excellent durability with Acetone, MEK and Alcohols, these systems are known to last for 10+  years even in constant contact with the chemical.  They are intended to remain on the container until it is empty.
EFFICIENT:  Low pressure (< 4psig) does the work so you don't have to. One touch tap system stops flow immediately for precise volume delivery of liquids. Controlled flow prevents spills … and their cleanup.   Provides RCRA empty barrels, with less than 1/2 inch or less left in the container for no more wasted chemical.
MAXIMUM SAFETY: Sealed system with container in the upright position stops VOCs which are wasted chemicals in the air and are unsafe for users.  Controlled flow prevents spills … and slip and fall accidents. Ergonomically tested to be better for your back  and eliminates repetitive motion injuries including bending and rotating a hand crank. Considered a best practices device by many insurance companies.  Meets RoHS standards.
VERSATILE:  Kit comes ready to use with a barrel but GT offers adapters for all other smaller containers. Can be used by hand or as a pneumatic pump for larger volumes.  GT pumps are food grade to meet FDA standards while SCP pumps are groundable and come with grounding and bonding wires for flammable liquids.
Please check the chemical compatibility chart to determine if these pumps are suitable for your liquid.  Shown below are specific, compatible hoses for MEK – PTFE-hose and different hoses for Acetone and Alcohols –  Tygon 2375 hose.  These will need to be ordered separately if you plan to use the remote tap.
See the Specification Sheet for Acetone and Alcohol Pump with Remote Tap
See the Specification Sheet for MEK Pump with Remote Tap
See the Specification Sheet for pump for Acetone, Alcohols and MEK
See the GT Flammable Risk Assessment Paper with documentation from Dekra-Chilworth, the Flammables Safety Experts and Ciba-Geigy
Showing all 54 results
Related Categories