Safe Chemical Handling for Iowa Public Water Supply
More than 2.5  million people in Iowa are served by public water supplies.  According to the annual DNR compliance report, the  2,000 regulated water public supplies, have seen significant improvement in compliance with new rules  which require systems to measure the byproducts of the disinfection process.  The byproducts can have an effect on public health especially pregnant women, the elderly, children and people with a weakened immune system. These rules were put in place as part of new federal regulations which created more requirements or water system operators and state oversight staff.
"Overall, the public water supplies in Iowa are serving safe water," according to Dennis Alt, supervisor of the DNR's water supply engineering section which monitors sampling and report of public water systems.  "The drinking water industry is very complicated with many requirements.  Iowa is fortunate to have dedicated, qualified water treatment and water distribution system operators, and state drinking water oversight staff.  And I'm sure we can work together to improve the compliance rate."
One of the Water Districts delivers drinking water to  almost 1000 customers who live about in one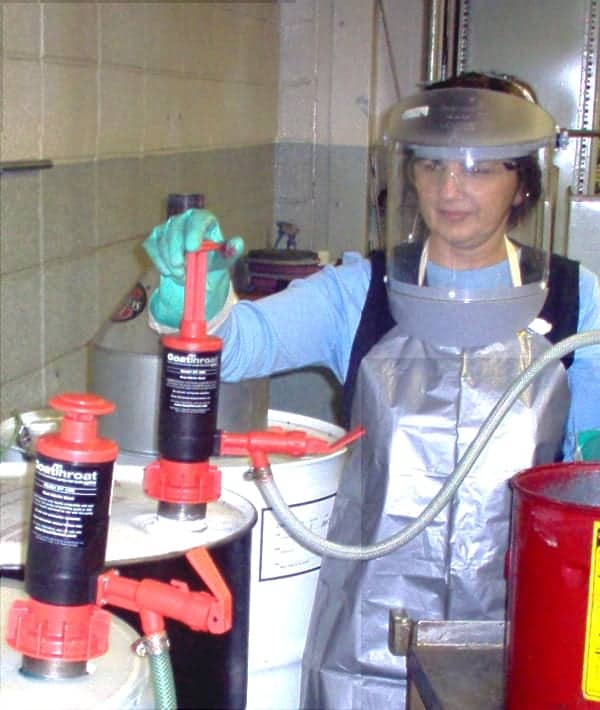 of the small towns in Iowa. The water comes from the local lakes  and is piped out to the area.  To ensure that the water is potable, chlorine is fed into the system twice a week at the well field before it reaches the booster station for the community.  Recently, to save money, the District switched over from tablets to liquid chlorine. Because of the toxic nature of chlorine, the District had been purchasing the liquid in 5 gallon containers. Research by employees  showed that purchasing the disinfecting agent in 55 gallon bulk containers  saved quite a lot of money but made safe handling a problem.  They found that once the drums of chlorine  were tapped, workers were still left to deal with the inherent difficulties that gravity-fed spigot systems presented.  First, extracting fluid was still very labor intensive and awkward. Spigots clogged easily and were difficult to remove. Second, it was difficult to control the flow rate, and the spigots leaked, contributing to spills and fugitive inventory loss.  Finally, the spigot system did not allow complete removal of all fluid from the drum, so additional labor and handling were required by two people to dump out the drum to get the remaining fluid out.
Through additional research on the internet, the Metro District staff member discovered and purchased  a GoatThroat Pump which created a very safe handling situation for the chlorine  in  55 gallon drums.  With these pumps, the containers remain upright, so there is no extra handling required for drums and no chance for accidental spills or lost work days. The  pump's working pressure of  1-5PSI produces  consistent flow rate of  4.5gpm. A drip-proof faucet with finger tip control dispenses small amounts  or  gives steady flow.   Having used the pumps since 2004, site operators have been very impressed with their pump.  It has allowed them to decant chlorine safely and with no messy spills.  Additionally, these pumps have spring loaded faucets which provide significant accuracy rate in the amount of fluids dispensed so there is no chance for uncontrolled addition of the chorine into the system thereby eliminating the fear of excess chlorine byproducts in the water.
Drum Pumps for Safe Chemical Transfer
When you purchase a GoatThroat pump, you can say goodbye to dangerous, messy chemical spills. Say goodbye to wasting valuable liquid product as a result of sloppy, inefficient pouring methods. Industry-trusted GoatThroat Pumps offer the easiest and safest way to transfer and dispense liquids. Our hand pump products and hazardous material pump products can be used for both corrosive and flammable liquids. Our trusted, recognized pump products are ideal for any environment where chemicals and potentially hazardous materials are used like laboratories or manufacturing. GoatThroat Pumps work well because they have a no-nonsense design that makes dispensing liquids from giant containers as easy as turning on a faucet with one touch. We've designed our pumps to handle anything from a two-gallon jug to a 55-gallon drum. We'll even work with you to help select the best of our products to create a solution that works for your specific chemical usage. GoatThroat Pumps work by pressurizing a container to dispense liquids. Our one-touch flow control dispenses liquids at a controlled rate to prevent waste, conserve inventory, and produce precisely measured amounts every time. Flow can be continuous, or adjusted to dispense liquids at rates up to 4.5 gallons per minute depending on viscosity. Here's a look at some of the perks of choosing GoatThroat when looking around for hand pump manufacturers:
The ability to dispense liquids at a controlled rate.
Waste prevention.
Inventory conservation.
Adjustable flow rates of up to 4.5 gallons per minute.
OSHA and EPA compliance.
GoatThroat Pumps deliver the safest, most reliable, and easiest way to transfer liquids between containers with accuracy and precision. Is it time to walk away from the perilous tip-and-pour method that far too many warehouses and laboratory environments are using? Learn more about GoatThroat Pumps today!