SAFE DISPENSING OF TRICHLOROETHYLENE
A leader in the engineering, environmental and remedial construction industries and provides a wide variety of services including site development, planning and engineering design, construction phase services, environmental services and facilities operations and maintenance services. Their laboratories use a number of chemicals for analysis including trichloroethylene, a dangerous chlorinated solvent.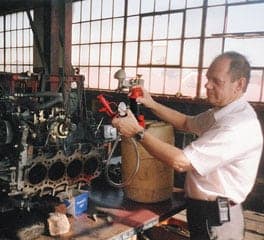 Worker safety around trichloroethylene is always a huge consideration – as you know the vapors are even more dangerous than the fluid itself. At the Phoenix lab, the manager had tried numerous pumps over the last 10 years. The inexpensive plastic pumps broke down and need to be thrown away; Other pumps leaked around their seals, which exposed the workers to vapors and the chemical. The siphon pumps take a long time to fill a container. The manager finally got the mechanics of using a rotary pump down to a fine art.  Training workers on the rotary pump, however, was a time consuming job, and there were frequent failures and spills which were dangerous. Plus, even these metal pumps would break down and have to be replaced. And then there was the issue of disposal of the hazardous waste. He has found that by using GoatThroat, the new transfer pump, the training was reduced to about 10 minutes, there are no leaks around the seals and no vapors are released, his workers have control over the volume dispensed, and there is no more hazardous waste.
Drum Pumps for Safe Chemical Transfer
When you purchase a GoatThroat pump, you can say goodbye to dangerous, messy chemical spills. Say goodbye to wasting valuable liquid product as a result of sloppy, inefficient pouring methods. Industry-trusted GoatThroat Pumps offer the easiest and safest way to transfer and dispense liquids. Our hand pump products and hazardous material pump products can be used for both corrosive and flammable liquids. Our trusted, recognized pump products are ideal for any environment where chemicals and potentially hazardous materials are used like laboratories or manufacturing. GoatThroat Pumps work well because they have a no-nonsense design that makes dispensing liquids from giant containers as easy as turning on a faucet with one touch. We've designed our pumps to handle anything from a two-gallon jug to a 55-gallon drum. We'll even work with you to help select the best of our products to create a solution that works for your specific chemical usage. GoatThroat Pumps work by pressurizing a container to dispense liquids. Our one-touch flow control dispenses liquids at a controlled rate to prevent waste, conserve inventory, and produce precisely measured amounts every time. Flow can be continuous, or adjusted to dispense liquids at rates up to 4.5 gallons per minute depending on viscosity. Here's a look at some of the perks of choosing GoatThroat when looking around for hand pump manufacturers:
The ability to dispense liquids at a controlled rate.
Waste prevention.
Inventory conservation.
Adjustable flow rates of up to 4.5 gallons per minute.
OSHA and EPA compliance.
GoatThroat Pumps deliver the safest, most reliable, and easiest way to transfer liquids between containers with accuracy and precision. Is it time to walk away from the perilous tip-and-pour method that far too many warehouses and laboratory environments are using? Learn more about GoatThroat Pumps today!