* Actually, 11 and counting.
With the wave of a wrist and the pull of a tap handle…. it could be beer.
GoatThroat Pump are simple to use, easy to understand, and a great engineering control for your chemicals. While everything we do is based in science, we know the technology will be very familiar to you when you look at these pictures.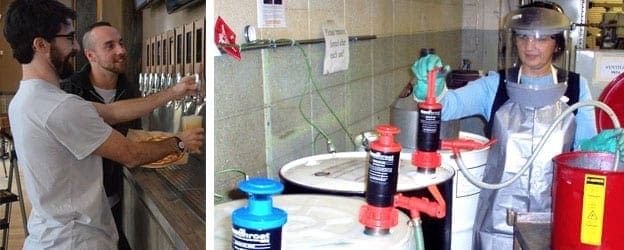 1. Beer taps can be used with over 2000 beers. GoatThroat Pumps will handle 2000 chemicals plus all of the beers
2. Keg taps load into the top with the container in the upright position. So do GoatThroat Pumps.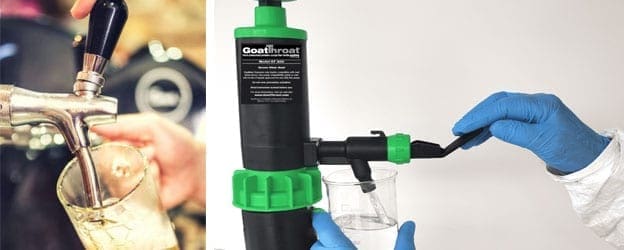 3. Beer taps deliver a perfect pour every single time. So do GoatThroat Pumps.
4. Beer taps have flow control at the end of the hose so you can deliver to a distance away from the keg into as many glasses or pitchers as you want on a table.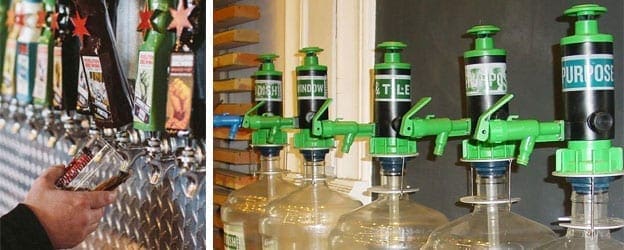 5. A beer tap keeps the beer completely sealed In its container so it's in perfect condition when you're ready to use it There is no way any outside contaminants can get in. Same with a GoatThroat Pump.
6. A beer tap can be used anytime anyplace where ever and when ever it is needed. So can a GoatThroat Pump.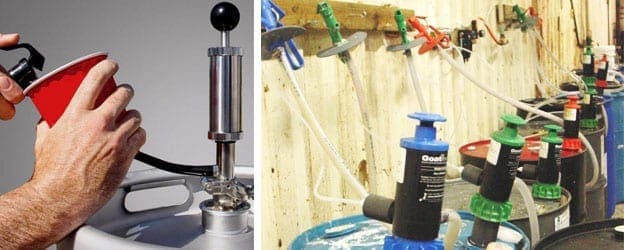 7. A beer tap has specially configured materials of construction including the hosing that is perfect for the liquids it handles. Same here – plus the staff at GT Pumps will help you select the perfect configuration for your system.
8. You can add a CO2 cartridge to a beer tap so you don't have to pressurized by hand. You can add oxygen or nitrogen or CO2 or argon to a GoatThroat Pump through our specialty pneumatic adapter.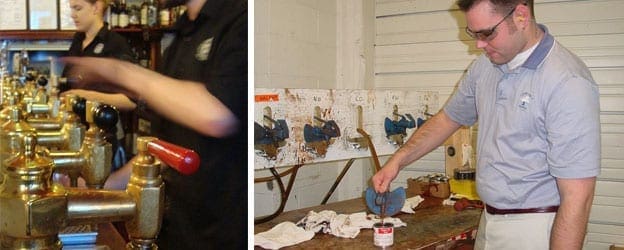 9. Keg pumps are easy and intuitive to use. It doesn't take any training at all to figure out how to use one. If you see it, you understand it. Same here.
10. A beer tap can be repaired by simply changing a couple of gaskets if it gets worn out. So can a GoatThroat Pump. You never have to throw them away.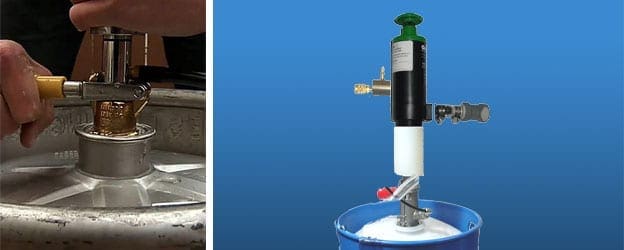 11. A keg pump has a special locking mechanism so that it can't disengage the keg. GoatThroat Pumps offers that option as well
"In the past I have had to hand poor samples from the master container spilling the product everywhere and making a mess. Not only was there extra clean up but the increased exposure risk from hand pouring. All these issues went away after I started using the GT300 with Viton seals. I'm a customer for life."

Brian, Territory Sales Manager
Chemical: Paa-sanitizer-fp
---
"Fairly simple to install and the no drip dispenser is a welcomed upgrade from crank style dispensers. No mess and less time to complete maintenance tasks. Overall excellent product."

David , Maintenance Technician
Chemical: Propylene-glycol-methyl-glycol
---
let us help you design a system.