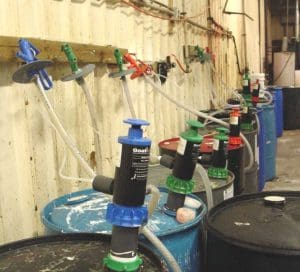 Chemical Manufacturing Case Studies
GoatThroat® pumps make ideal chemical handling pumps because they create a safer, easier, and more consistent way to transfer liquids between containers. They also enable you to store containers in a smarter, more effective manner due to the fact that no tipping of heavy containers is required to produce flow.
Anyone who is tasked with monitoring and optimizing safety conditions at a facility should know about the way GoatThroat pumps aid in fostering chemical dispensing safety across operations.
Safe Chemical Storage and Dispensing
The SCP line of GoatThroat pumps meets both NFPA 77 and NFPA 30 requirements. See more:  https://www.goatthroat.com/wp-content/uploads/2018/08/GT-NFPA-77-Evaluation-By-Ciba.pdf
https://www.goatthroat.com/wp-content/uploads/2018/06/Safety-and-Technical_Info_SCP-6500.pdf
The GT line of pumps are manufactured to Food Grade Standards  and are completely safe for food contact. See more: https://www.goatthroat.com/wp-content/uploads/2018/06/GoatThroat-Food-grade-statement-2016.pdf
Dispensing chemicals safely is a primary concern for many chemical warehouses. The fact that GoatThroat pumps do not rely on gravity to release liquid means that there is no worry that workers can become injured by trying to tip and pour a barrel.
These pumps can prevent spills and potentially eliminate the need to clean using heavy cleaning agents. GoatThroat pumps can help promote the overall wellness and safety of employees on a daily basis due to the fact that they don't require tons of pressure or exertion to dispense liquids, meaning less time is spent having your employees worry about injuries caused by struggling to release liquid from a container.
The following case studies illustrate the usefulness of GoatThroat brand pumps in the chemical manufacturing industry and meeting EHS goals (Environmental Health and Safety).
Download Library.
Click on a title to download.
Ratings & Reviews.

Business Type: Manufacturing - Food ManufacturingFeb 26, 2019. Great pump. Well made and designed but one of my pumps failed due to being used for a the wrong chemical. I replaced the failed seal and will soon be placing an order for the correct model of pump.—Joel Cook, Chief EngineerChemical: Peroxyacetic-acid---also-known-as-peracetic-acidPump: Gt200 With Epdm Seals

Business Type: ManufacturingFeb 08, 2019. Had trouble finding the right pump for a heavy duty detergent we use that wouldn't lose prime because of the slickness of the detergent. Saw an advertisement for goatthroat and contacted them and sent them a sds and they contacted the detergent company to see which pump would be best suited for our use. They recommended the epdm seals and the pump is working better than any other pump we have had.—Rich Coe, Maintenance/purchasingChemical: DetergentsPump: Gt200 With Epdm Seals

Business Type: Manufacturing - Pharmaceutical & MedicalJan 02, 2019. Awesome pumps works great...—Bernie Rosario, Hazmat TechChemical: Power Kleen500Pump: Gt100 With Nitrile Seals
Rather talk to a person? Email us or call (866) 639-4628.
Recommended.
Some of our products that people in the Chemical Manufacturing Industry use.