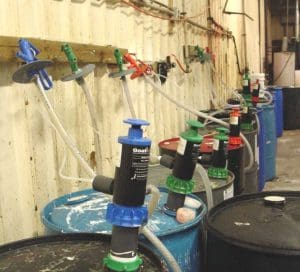 Recommended by several chemical companies, there is no doubt that GoatThroat® Pumps improve reliability and safety in chemical manufacturing environments.  Users all agree that spill prevention beats clean up with solvents, acids,  and other corrosives.  With the cost of chemicals, many facilities use GT Pumps because they are safe for contact with over 1700 chemicals and meet exacting requirements. The sealed system is essential in such environments  because it reduces vapors and emissions and allows for complete control over the volume of liquids dispensed. The SCP Line of Pumps which are made of static conductive plastic allows these pumps to be used with flammable liquids meeting both NFPA 77 and NFPA 30 requirements. All non-SCP pumps are made from Food Grade materials making them safe for food contact. GoatThroat Pump's unique technology help companies reduce hazmat incidents and save money at their facilities by preventing costly chemical spills and the associated cost of reporting and downtime. The systems mitigate worker compensation claims by preventing workers exposure to hazardous chemicals and by eliminating repetitive motion and other injuries.
Download Library.
Click on a title to download.
Ratings & Reviews.

Business Type: ManufacturingFeb 08, 2019. Had trouble finding the right pump for a heavy duty detergent we use that wouldn't lose prime because of the slickness of the detergent. Saw an advertisement for goatthroat and contacted them and sent them a sds and they contacted the detergent company to see which pump would be best suited for our use. They recommended the epdm seals and the pump is working better than any other pump we have had.—Rich Coe, Maintenance/purchasingChemical: DetergentsPump: Gt200 With Epdm Seals

Business Type: Manufacturing - Chemical ManufacturingDec 21, 2018. The people at goatthroat made my purchase and troubleshooting very easy. I was able to get support in a very timely manner and with their help i was able to get what i needed. Everything works great that we bought from them and we will be a return customer.—Wayne Chandler, Quality ManagerChemical: AcetonePump: Gt200s With Santoprene Seals

Business Type: Chemical ManufacturingDec 11, 2018. We use to have the drum laying in a drum cart , which was a mess on the floor and a safety concern . Now that we use this pump we have no mess and reduced our safety concerns. Also we have a better control of weight when weighing .—Gary Brownell, Rtv Set Up Chemical: Duroct Cerium 12%Pump: Gt300 With Viton Seals
Find the Right Pump.
Rather talk to a person? Email us or call (866) 639-4628.
Recommended.
Some of our products that people in the Chemical Manufacturing Industry use.