Chemical Handling Pumps
GoatThroat® pumps make ideal chemical handling pumps because they create a safer, easier, and more consistent way to transfer liquids between containers. They can also enable you to store containers in a smarter, more effective manner due to the fact that no tipping is required to activate flow.
Anyone who is tasked with monitoring and optimizing safety conditions at a facility should know about the way GoatThroat pumps can aid in fostering chemical dispensing safety across operations.
Safe Chemical Storage and Dispensing
The SCP line of GoatThroat pumps meets both NFPA 77 and NFPA 30 requirements. Some pumps are manufactured using food-grade materials and are completely safe for food contact.
See more:  https://www.goatthroat.com/wp-content/uploads/2018/08/GT-NFPA-77-Evaluation-By-Ciba.pdf
https://www.goatthroat.com/wp-content/uploads/2018/06/Safety-and-Technical_Info_SCP-6500.pdf
The GT line of pumps are manufactured to Food Grade Standards  and are completely safe for food contact.
See more: https://www.goatthroat.com/wp-content/uploads/2018/06/GoatThroat-Food-grade-statement-2016.pdf
Dispensing chemicals safely is a primary concern for many chemical warehouses. The fact that GoatThroat pumps do not rely on gravity to release liquid means that there is no worry that workers can become injured by trying to tip and pour a barrel.
These pumps can prevent spills and potentially eliminate the need to clean using heavy cleaning agents. GoatThroat pumps can help promote the overall wellness and safety of employees on a daily basis due to the fact that they don't require tons of pressure or exertion to dispense liquids, meaning less time is spent having your employees worry about injuries caused by struggling to release liquid from a pump.
The following case studies illustrate the usefulness of GoatThroat brand pumps in the chemical manufacturing industry.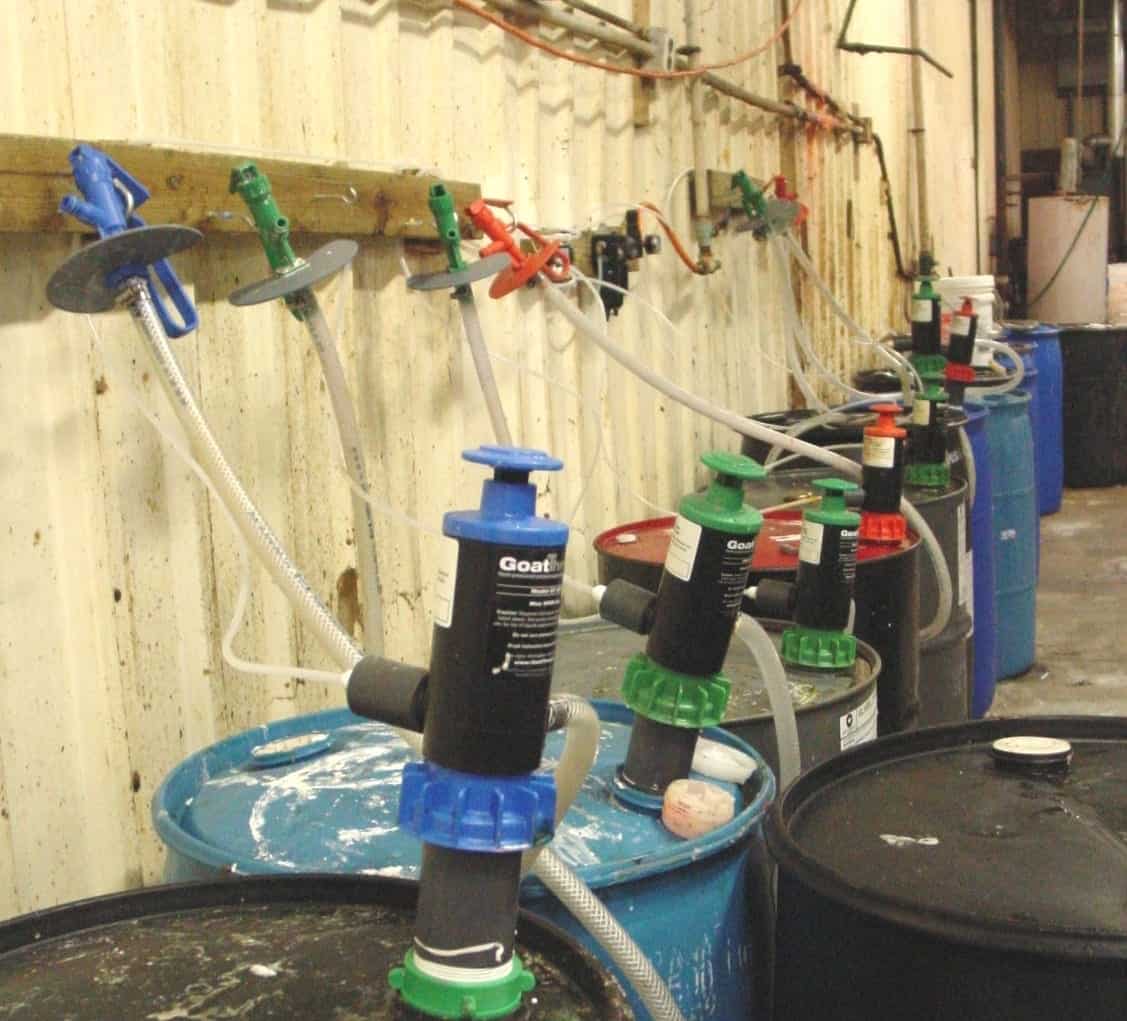 Download Library.
Click on a title to download.
Rather talk to a person? Email us or call (866) 639-4628.
Recommended.
Some of our products that people in the Chemical Manufacturing Industry use.
Ratings & Reviews.

Business Type: Manufacturing - Electrical Equip/ApplianceAug 30, 2019. These pumps work surprisingly well, especially when you have a full drum and need to get a few liters or gallon from the barrel. They have made it safer and easier to get the chemistry we need. All of our lab techs seem to really like using them. We are in the process of ordering more.—Eric Nielsen, Chemical Laboritory SupervisorChemical: Plating-solutions:-copperPump: Gt300 With Viton Seals
Case Studies.