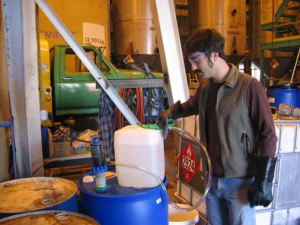 As you're probably aware if you're a business that works with hazardous chemicals, there are myriad components to a safe pump system. The pump materials must be compatible with the chemical. The fittings and accessories must be right for the application. The operation should be as ergonomically sound as possible, et cetera. See our GoatThroat Technical Pump Safety Evaluation which details how our pumps reduce the impact on the body during use compared to our competitors.
Using Goat Throat's "Find Your Pump" tool is an easy way to get a safe & reliable pumping configuration that is completely customized to your needs. We take the guesswork out of finding the right plastic, the right size, the right fittings and accessories and any other questions you may have when designing your own tool.
 Customize your own system with the Find Your Custom Pump Configuration tool
How Does a Custom-Configured System Make a Difference?
The safety of your employees is of the utmost importance to your business, but keeping your work environment hazard-free with a pump that's been custom-tailored to your operation has additional benefits for your company:
Custom-Designed Pumps Make Financial Sense.

A pump system that is efficient, lasts upward of 10 years, and is made from materials compatible with your chemicals will more than pay for itself 

typically within the first 6 months

. Not to mention the money you'll save avoiding compliance check fines and workers compensation payouts.

Custom-Designed Pumps Protect Your Reputation. When pumping is this efficient and reliable, your whole operation will be smoother. You'll save time and money, and be able to pass those savings to your bottom line or on to your customers. Plus, your customers can rest assured that the safety of your employees and efficiency of your operation is important to you.
Custom-Designed Pumps Are a Great Recruiting & Retention Tool. Attract and retain top talent by offering a pumping system that is specifically designed to make work flow easier and safer. Reducing the risk of dangerous chemical spills is imperative to the success of your employees and therefore of your business.
Chemical Spills Are Preventable: Take Safety Into Your Own Hands
Don't wait for a workplace accident to get serious about the safety of your operation. Start now by using the safest, custom-designed solution for your company's needs. Use our custom pump configuration tool, visit our chemical compatibility guide, and reach out with any questions. One of our experts would be happy to ensure you have the exact right pump and accessories for your business.