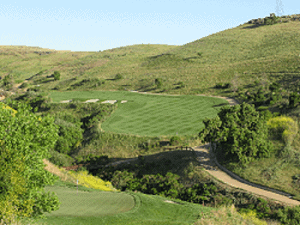 Beautiful turf doesn't happen by accident. You already know that it takes a great deal of planning, manpower, and chemical usage to keep a green space flourishing if you work in landscaping or agriculture. The stakes are very high when it comes to ensuring safety and keeping costs low regarding the handling of agricultural chemicals.
That's why GoatThroat® Pumps are used by so many people in the golf, lawn, and landscape industries. Our laboratory-grade pumps are used by enterprises all around the country. In fact, GoatThroat counts major enterprises like Bayer, BASF, and Corteva (Dow – Dupont) on its list of satisfied customers. Our state-of-the-art pumps deliver when it comes to spill prevention for agricultural applications. Are you looking for an OSHA-compliant pump that can help you to cut down on spills and product waste at your site? Discover why taking a few minutes to find the right pump beats pouring energy and money into correcting an issue once a spill has already happened.
Why Using the Right Pump Is Important
Most major spills occur when employees are removing liquid materials from storage drums. Spills can happen whether workers are manually handling drums and containers or forklifts are being used to transport materials. The reality is that the problem of overflow is almost impossible to avoid when you're transferring liquids from a larger container to a smaller one. A spill can create hazardous working conditions for employees at a job site. What's more, spills can create compliance nightmares when it comes to OSHA and the EPA.
Companies often lose money when trying to stay in compliance with regulations that are in place regarding liquid safety. One of the big ways they do this is by purchasing smaller batches of liquids at higher prices. Most managers would rather knowingly lose money than risk the major spills that could occur when handling larger drums of liquid. Of course, using slightly smaller drums doesn't ensure that spills won't occur. Using the tip-and-pour method of transferring liquids is almost guaranteed to result in spills. The tip-and-pour method leaves managers with two choices when it comes to how to handle the liquid that is at the bottom portion of a drum or barrel. The first option is to simply leave the liquid where it is and take a loss. The second option is to tip a container as sharply as possible to try to extract what is at the bottom. One option is guaranteed to result in the loss of money. The other invites major spills that could be dangerous and difficult to clean up.
Is there a better way? It is now possible to leave behind outdated techniques and finally stop throwing away money and putting workers at risk. GoatThroat Pumps are designed to create an even, controllable pour every single time, and are capable of handling a wide variety of liquids without corroding or becoming compromised.
Site Managers Are Saving Money and Increasing Safety
Lawn-care companies have a big responsibility to handle fertilizers, herbicides, and formulas containing chemicals in an efficient and controlled manner. Figuring out a responsible and effective way to decant pesticide concentrates into smaller containers for the purposes of mixing or diluting those chemicals can be a big task. A California Lawn Care recently faced the dilemma regarding how to handle this task. A manager at the company researched ways to pump an herbicide into field-use containers. Unfortunately, the standard method that was being used for transference was routinely resulting in spills that required extensive cleanup efforts. The manager eventually discovered that a GoatThroat Pump with Viton® seals could provide a better method of transference. The California Lawn Care was able to deliver chemicals to field-use containers using a remote tap and eliminate spills and messes. The company is happy to report that this has created a safer and tidier environment for employees. What's more, the company is no longer wasting money on cleanup efforts or purchasing new pumps every time a failure occurs.
Another example comes from San Jose, California. The team tasked with managing the Ranch Golf Course spends quite a bit of time dealing with finding ways to efficiently purchase, store, and dispense everything from fertilizers to insecticides. Spills, leaks, employee injuries, and loss of product were all problems that management was forced to deal with on a routine basis. The staff at The Ranch Golf Course had been using the standard tip-and-pour method for quite some time before discovering that a better way existed. This previous, now-abandoned method involved storing 55-gallon drums of liquid horizontally and using mounted spigots to extract liquid. Spigots were often dislocated or dislodged, which resulted in substantial chemical spills that were both dangerous and expensive. One of the managers at the golf course read about us in a trade publication, and they're happy to report that our products have helped team members to eliminate spills and employee injuries related to transferring liquids in the six years since they started using our pumps.
It's Time to Upgrade Your Pumps
Are you tired of wondering when your next big spill or leak will be? Is the possibility of an accident that's caused by a spill always on your mind? Do you waste money every month due to purchasing smaller batches of chemicals just to avoid transfer-related spills? Have you had to replace countless pumps because of failure over the years? You're using the wrong pump. Here are some of the perks you can look forward to if you upgrade to a pump from GoatThroat Pumps:
Easy installation.
Pumps which are matched to your chemicals.
A pump that lasts four to five times longer than traditional pumps.
A reduction in spill-related accidents.
Overall cost savings.
GoatThroat Pumps are used by industry leaders;however, you don't have to be part of a major enterprise to enjoy the benefits of these cutting-edge, game-changing pumps at your site. They are priced to be accessible to enterprises of every size and scope. Users praise these pumps for being, easy to use, efficient and essentially foolproof and offering offer consistent performance.
Let Us Help You Get the Right Pump
Are you unsure about what you need when it comes to selecting a new pump for your site? Our team is happy to help. GoatThroat pumps can be used with adapters that allow you to work with containers of nearly any size and shape. We'll take time to talk with you regarding your intended application and make sure you can find the appropriate pump.
It's time to walk away from spills and stop sweating over compliance worries. Perform your next pour with a GoatThroat pump—reach out today to learn about how to find the right pump for your specific needs.