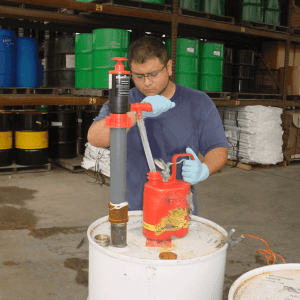 It's no surprise that acid pumping can be a dangerous operation. Combine hazardous liquids with laborious pumping and you've got a recipe for spills, injuries and wayward VOCs. 
GoatThroat Pumps has designed a way around this problem by creating the easiest acid pump available: this pump delivers a smooth continuous flow at the touch of a button; it's as easy as turning on a faucet and leaves the barrel with less than ½ an inch of product. How does it work? Read on to find out.
Changing the Game, One Acid Pump At a Time
The old way involves continuous hand pumping to keep a container pressurized enough to dispense acids; or worse, tipping and pouring acids from one vessel to another. As you're probably imagining, there are many ways for this to go wrong. Employees get worn out from difficult hand cranking, chemicals spurt and spray out of the pump from uneven pressure, employees spill hazardous acids, injuring themselves and wasting valuable product.
The GoatThroat way allows containers to be easily pressurized to dispense acid at the touch of a button. Just a few strokes of the piston and you're ready to easily and smoothly transfer acid from something as big as a 55 gallon drum pump. Our pumps help you deliver a precise amount of liquid, save precious inventory and keep employees safe.
Watch this short video to learn more:
Icing On the Cake: This Pump Lasts for 10+ Years
You might already be thinking, this pump sounds too good to be true. But the truth is, it gets better. Whereas most pumps deteriorate or break after several months, the GoatThroat acid pumping system lasts for 10+ years, even with the use of corrosive chemicals. We've tested all of our materials for chemical compatibility to ensure that our customers get the exact right fit for their needs. Get started by configuring your pump system or speak to a real person by calling or emailing us.