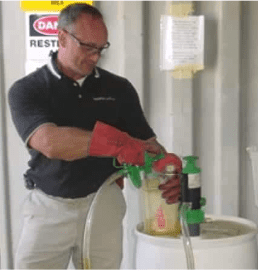 For businesses where chemical pump operation is key to their bottom line, there are myriad ways to lose money:
Inefficient pumping processes that leave valuable chemicals spilled or

left sitting

in the barrel

Costly worker's comp claims from poor handling of hazardous chemicals

Replacing cheaply made equipment over and over again
GoatThroat barrel pumps are the answer to all three of these pricey problems. Our long-lasting pumps are the only ones on the market to offer safe, efficient chemical transfer with the touch of a button.
Efficiency Ensured
Each time you use a GoatThroat barrel pump, you'll get liquid dispensed at a controlled rate, adjustable up to 4.5 gallons per minute, for an extremely precise pour. You'll be able to transfer liquids from barrels with one touch–as easy as turning on a faucet!
Prevent Spills, VOCs & Injuries
Don't let costly spills and expensive injury claims tank your profits; take control of your finances by taking control over your pumping process. GoatThroat pumps take the hassle out of chemical transfer by accurately dispensing liquid, minimizing the need for open containers and allowing for ergonomic workflow. Ditch the back-breaking tipping and pouring and opt for a smoother, continuous flow with the touch of a button.
Forget Flimsy, Purchase Powerful
An investment in GoatThroat pumps usually pays for itself within the first 6 months. Why is that? Well, along with our no-spill system and RCRA-compliant draining prowess, we offer pumps made from reinforced polypropylene plastic that are designed to last 10+ years, even in constant contact with chemicals. We also work very closely with you to specify the correct gaskets and seals to make sure you get the right tools for the job.  Other, cheaper pumps require replacement much more often.
Find Your Cinderella-Fit Barrel Pump at Goat Throat
We've got the customized pumping solution for your needs! Take advantage of our Find Your Pump tool, browse our chemical compatibility chart or take a look at our barrel and pail adapters to find exactly what you need. Safe transfers, empty barrel pumps, and happy employees are in your future!