Gold Winner – Product of the Year in Fluid Handling
April 2017.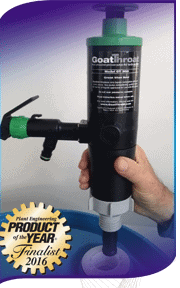 Need to find a pump to work with your DrumQuik® applications   or are you looking for a threaded fitting between the pump and the drum? Check out the DQGT – compatible with DrumQuik– co-developed with CPC – Colder Products Inc. Designed as an engineering control to improve worker safety, sustainability and environmental compliance for point-of-use liquid transfer, the GoatThroat DQGT Pump System works with all DrumQuik inserts. Pumps from GoatThroat prevent the hazards usually associated with transferring liquids such as unwanted vapors, leaks and spills.
The DrumQuik for GoatThroat (DQGT) sealed chemical dispense/pumping system is designed to minimize/eliminate corrosive chemical exposure to technicians, prevent hazardous spills into the environment, minimize inventory loss due to evaporation, and protect the purity of the chemical while dispensing liquids at point of use and when transferring the system from barrel to barrel. With a DrumQuik dip-tube closure installed in the container, only the 2-lb DQGT pump head is moved to the next barrel. Featuring secure, threaded closure options for most common plastic and metals drums, the DQGT installs easily on barrels providing a sealed system that maintains liquid purity and prevents noxious vapors from escaping into the environment.
See how it assembles with a GoatThroat Pump
See a video showing how easy it is to use.
The DQGT Pump System is available as standard in either Viton® or EPDM or with an FEP upgrade to match the chemical resistance required for use with over 1,400 commonly used liquids and chemicals. To find out more,  call GoatThroat toll free +1 866-639-4628 or +1 646-486-3636.
Click an image below to enlarge it.