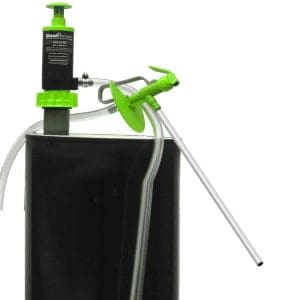 In a time of cheap, poorly made products that fail fast, a quality, reliable acid hand pump is a precious commodity. If you're a company that handles hazardous chemicals and you're frustrated by poorly designed transfer systems that lack efficiency and durability, GoatThroat has the superior solution you've been waiting for. Check out the features that put our pumps leaps and bounds ahead of the competition!
View Our Full Viton Pump & Tap Line
Unbeatable Durability
When you hold a bowling ball, do you consider it durable or flimsy? Though constructed out of plastic, these powerhouses have a heaviness and quality that can withstand countless throws, drops and rolls! That's the same kind of durability you're getting with the GoatThroat VitonTM acid hand pump which are made of bowling ball plastic.
Like the common bowling ball, it's made out of reinforced polypropylene plastic, a material well known for lasting a lifetime. It also boasts cutting edge VitonTM elastomer technology, excellent for handling acids, pesticides and many solvents; our pump systems are known to last well over 10 years, even in constant contact with chemicals. Now that's durability. As a reminder, our acid hand pumps are intended to remain on the container until it is empty.
Maximum Efficiency
There's nothing worse than a tool that actually makes the job harder, or a system so poorly designed that it harms more than it helps. Countless companies in the pump manufacturing industry are trying to reinvent the wheel, but they often forget that substance is more important than style; the result is low-quality transfer systems with design flaws that end up making you more mess than money and are much more likely to cause injury.
At GoatThroat, we put efficiency first, and our highly reviewed acid hand pump is all the proof you'll need. All of our pumps operate at low pressure, effectively eliminating resistance and making for a smooth, easy pump that takes the strain and effort out of operation. Our pumps also feature a one touch tap system that yields careful, precise pours every time, so you can say goodbye to uneven pours, dripping and spillage – along with the hazardous fumes and dangerous slipping accidents that follow!
Order Your Acid Hand Pump from GoatThroat Pumps
If you're in the market for a reliable, well-designed acid hand pump, we don't blame you – there are a lot of duds out there! Any pump you buy from GoatThroat is guaranteed to last, with high-quality composition for maximum durability and superior design for convenience, ease of use, and precise functioning. Don't pour your precious resources into inferior products that spill instead of satisfy; go with a top-tier acid hand pump from GoatThroat today!