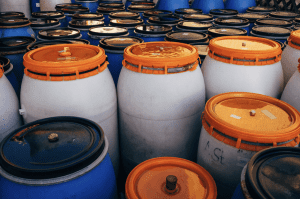 Whether a busy restaurant, a cranking car garage, or a fast-paced pharmaceutical company, if you're in a business relying on liquid and chemical transfer, time is always of the essence. In industries where even the smallest setbacks can have severe implications, the tools you use on a daily basis should be reliable. The revolutionary hand operated liquid transfer pump from GoatThroat is the gold standard for chemical transfer, so pick one up, embrace efficiency, and start making up for lost time!
Save Time On Spills!
Handling liquids is no easy task; an epic, time-consuming spill is always a simple misstep away. But not with a GoatThroat pump! Our pumps are designed for use on upright containers, a tidy alternative to messy processes like the incredibly dangerous tip-and-pour method. Also, our pumps feature a neat, clean pour that makes spills (and their costly cleanup) a near impossibility; the simple touch of a tap initiates and ceases the pouring process! For a spill-proof pour that offers more, go with a pump from GT! 
Hand Operated Liquid Transfer Pump For Time-saving Safety
Nothing halts workflow like an employee injury; the results reverberate on several levels. Immediately, it means a disjointed day of falling behind in the chaotic wake of an accident; in the long run, it could mean the loss of a productive employee for days, weeks, months or even permanently; not to mention workers' comp and expensive medical bills. 
Sadly enough, when it comes to chemical transfer, slip and fall injuries are far too common. Unsafe, inefficient equipment is almost always to blame for these avoidable accidents. This is where GoatThroat comes in. The controlled flow offered by our pumps practically eliminates slip and fall injuries, optimizing your workplace for safety. In fact, our pumps are RoHS compliant and are even considered best practices devices by many insurance companies, so you can save time and increase safety all at once! 
Precise Pours = Punctuality
Of course, one of the best ways to save time is by improving efficiency, and there's no better way to propel your productivity than with a GT pump! With effortless container pressurization and a one-touch tap system, the predictability and precision of each pour means maximum efficiency and improved productivity. Stop wasting time with sloppy pours and uneven distribution. There's no reason to settle for second best; just choose the pump that shames the rest! Learn more about us today!